Article
4 min read
National Sport's Day : In the glorious memory of Major Dhyan Chand
August 29, 2021
Share
0

Bookmarks
210

Reads
0

Likes
Kavishala Celebrates National Sport's Day 2021 in memory of Major Dhyan Chand on his 116th birth anniversary
29th Aug is most precisely celebrated annually as National Sports Day in memory of legendary Hockey player and remarkable Olympian.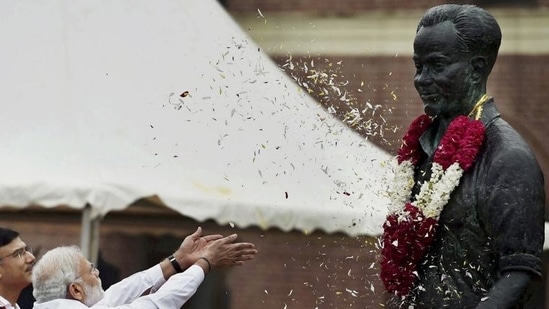 Our Honorable Prime Minister Narendra Modi announced that the Rajiv Gandhi Khel Ratna Award, the country's highest sporting honor, will be renamed after decorated Olympian Major Dhyan Chand on the 6th of August, 2021 on popular demand.
And today on Sunday, Aug 29, the whole nation is remembering our legendary Olympian and, arguably the greatest Hockey player of all time, Major Dhyan Chand, on his 116th birth anniversary. As a tribute to Dhyan Chand, his birthday is commemorated as National Sports Day. This year, the occasion has coincided with India registering its best-ever finish in the Olympics, winning seven medals in the recently concluded Games in Tokyo. Indian athletes are winning medals in the ongoing Paralympics as well, which, like the Olympics, are being hosted in Japan's capital city.
Our prestigious Union home minister Amit Shah said on Twitter to pay regards to Dhyan Chand said, "With his dedication and achievements, Major Dhyan Chand gave Indian Hockey a new identity. His passion and determination to bring glory to India, despite facing a lack of basic resources, shall always inspire us,".
Dhyan Chand, unfortunately, passed away on 3rd Dec 1979, at the age of 74, was a member of the Indian Men's Hockey teams which won three successive Olympic gold medals, in 1928, 1932, and 1936. In 1956, he was honored with the Padma Bhushan, the country's third-highest civilian award.
Wherein Tokyo, the Men's Hockey team won finished third, winning its first Olympic medal since Moscow 1980, when it won its eighth gold in the sport. The Women's team, meanwhile, came agonizingly close to winning a bronze of its own, which would have been its maiden Olympic medal. India had won 3 other bronze medals, in addition to gold and two silver medals.
The National Sports Day in India is celebrated on 29th Aug, on the birth anniversary of hockey player Major Dhyan Chand. This day marks the birthday of Major Dhyan Chand Singh, the hockey player who won gold medals in the Olympics for India in the years 1928, 1932, and 1936. He scored the highest 570 goals in his career, from 1926 to 1949.
Having put his stamp on the International hockey arena, and having served his country to reach its pinnacles of glory multiple times. He was a reasonably legendary figure in Indian as well as earned a lot of name and fame in world hockey. The most noted memorials for him were the Major Dhyan Chand Award, the highest award for lifetime achievement in sports and games in India, and the National Sports Day celebrations on his birthday. Major Dhyan Chand learnt the game of hockey from his coach Pankaj Gupta. There is no one who had beat his level in hockey.
HISTORY OF NATIONAL SPORTS DAY
For the first time in 2012, National Sports Day was included in India's list of national celebrations. India's National Sports Day is celebrated every year on August 29. Major Dhyan Chand, widely known as the "Hockey Wizard" and "The Magician", was born on August 29, 1905, and National Sports Day is marked to celebrate his birthday.
TOP TRENDING SPORTS IN INDIA
Football
As we all know that globally, football is the most popular sport, having been invented in England around 1863. The football following in India is definitely growing, and Indians are likely watching international games from the English Premier League and La Liga in Spain.
Players also participate in a second National Football League in India called the I-League, which was first created in about 2007. Football is an outstanding game because it is a non-contact game, which seems to be something that the Indian culture perceives to be a better way to play in Athletics.
Hockey
We tend to associate hockey with school sports; however, there is a professional level of play worldwide. It has become incredibly popular in India and rivals cricket as the national sport. Field Hockey is an event at the Olympic Games, and the Indian team has won over eight gold medals.
They have both a women's and men's team, and they are equally successful in attracting many spectators.
The teams have a domestic league called the Hockey India League, which has its own games and tournaments, and they also have an international team that takes part in events on a global level.
Badminton
Another sport rivaling to be top of the list is badminton. It is incredibly popular across India and is actually currently ranked the second most popular sport, with field hockey hot on its heels. Badminton is recognized at the Olympics, and in 1899 India formed its own badminton association, making this the oldest governing body overall across the sport.
It is very much popular in schools, colleges as well as at a professional level.
American Football
Most of the sports that are popular in India right now tend to be played with a ball and bat or stick in the case of hockey, and all are strictly non-contact sports. However, they enjoy the English version of football which is known as soccer in America.
There is more potential for injury, but a smaller group has started to really enjoy the game give it a new lease of life within India.

No posts

No posts

No posts

No posts

No posts