Article
4 min read
The Golden History of Tokyo Paralympics 2021!
August 30, 2021
Share
0

Bookmarks
176

Reads
0

Likes
'MEET THE ATHLETES WHO HAVE THE CAN-DO FACTOR'
'They have the can-do factor,
and doing what they do inspire people to just try that little bit harder, whether they are able-bodied or disabled.'
Tokyo Paralympics 2021: Swaroop Mahavir reached in 10m air rifle final, Avani Lekhara wins gold in shooting; Yogesh Kathuniya and Jhajharia won silver, and bronze for Sundar Singh Gurjar.
SHOOTING
Avani Lekhara Women's 10m Air Rifle Standing Final - SH 1
Avani Lekhara wins gold, equalling the world record with a score of 249.6.
Men's 10m Air Rifle Standing SH1
Swaroop Mahavir is placed second after his first 10 shots. The eliminations will get underway.
ATHLETICS
Yogesh Kathuniya- Men's Discus Throw Final (Class F56)
Brazil's Claudiney Batista overtakes Khatuniya with a throw of 45.59m and takes gold. He improves on his Paralympic Record throw of Rio 2016.

Kathuniya grabs silver, while Cuba's Leonardo Diaz Aldana bags bronze with 43.36 m.

Kathuniya still leads after 6 out of 8 competitors finish their throws.

Leonardo Diaz Aldana from Cuba is second, with a best of 43.36m.

Kathuniya leads with a season-best throw of 44.38m.

He registers throws of 42.84m, 43.55m, and 44.38m in his second, fifth and sixth throws, respectively.
Devendra Jhajharia, Sundar Singh Gurjar, Ajeet Singh Yadav - Men's Javelin Final (F46)
Jhajharia grabs silver and Gurjar brought bronze for India.

While Jhajharia breaks his personal best with 64.35m in his third throw, Dinesh Priyan of Sri Lanka broke Jhajharia's world record of 63.97m with a huge 67.79m-throw.

Position after Attempt 2: Gurjard 2nd, Jhajharia 4th, Ajeet Singh 8th

Ajeet Singh throws a foul in his second attempt.

Jhajharia improves marginally, registering 60.62m in his second throw.

Gurjar manages 60.2m in his second attempt, failing to improve on his first throw.

After all nine finalists complete their first throws, Gurjar is placed second, Jhajaria is in the fourth position, while Ajeet Singh is placed seventh.

Ajeet Singh Yadav settles for 56.15m in his first go with the spear.

World-record holder Jhajharia throws 60.28m in his first attempt.

Gurjar registers 62.26m in his first throw.
Indians in action on August 30 :
5:00 a.m(IST)-Shooting - R2 - Women's 10m Air Rifle Standing Qualification - Avani Lekhara (Class SH1).
6:05 a.m(IST)- Discus - Men's Discus Throw final - Yogesh Kathuniya (Sport Class F56)
7:15 a.m(IST)- Shooting - R1 - Men's 10m Air rifle Standing Qualification - Deepak, Swaroop Mahavir Unhalkar (Sport Class SH1)
7:33 a.m(IST)- Javelin Throw - Men's Javelin Throw final - Sundar Singh Gurjar, Devendra, Ajeet Singh Yadav (Sport Class F46)
3:30 p.m(IST)- Javelin Throw - Men's Javelin Throw final - Sumit Antil, Sandeep Chaudhary (Sport Class F64).
The Golden History of Tokyo Paralympics 2021: Indian Shooter Avani Lekhara wins gold; Discus Thrower Yogesh Kathuniya, Javelin Legend Devendra Jhajharia bag silver.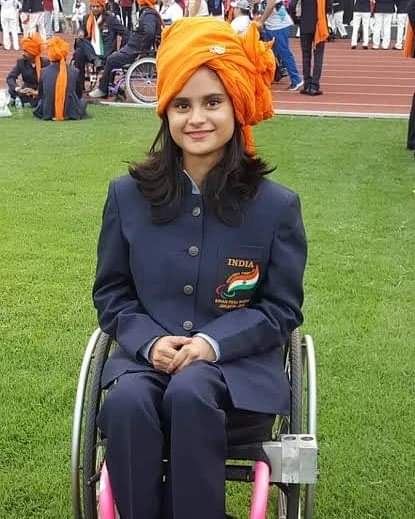 Women Athletes shining in the Paralympics Tournament :
The young 19 years old shooter Avani Lekhara scripted history today as she became the first Indian woman to bring gold medal back to home at the Paralympics, firing her way to the top of the podium in the R-2 women's 10m Air Rifle Standing SH1 event.
Avani had achieved a world record-equalling a total of 249.6, which is also a new Paralympic record. Discus thrower Yogesh Kathuniya clinched a silver medal in the men's F56 event.
The 24-year-old Yogesh, a B.Com graduate from New Delhi's Kirorimal College, sent the disc to the best distance of 44.38m in his 6th and last attempt to clinch the silver. Two-time gold-winning javelin throw veteran Devendra Jhajharia clinched a stupendous third Paralympic medal. Sundar Singh Gurjar also chipped in with a bronze, finishing behind Jhajharia in the men's javelin throw F46 final.
Bhavina Patel on 5th day of Tokyo Paralympics bagged silver as she lost 7-11, 5-11, 6-11 to World No. 1 Ying Zhou of China in the final of the class 4 women's singles table tennis. Bhavina had won India's first medal at Tokyo 2020 and 13th overall.
The hierarchy went like, Bhavina had lost to her Chinese opponent in straight games during her first match in Tokyo Paralympics in the group stage, when she was the only opponent she could not beat in the whole tournament. Jyoti Balyan lost to Kerrie-Louise Leonard of Ireland 141-137 in the Women's Individual Compound 1/16 Elimination round.
She again came into action with Rakesh Kumar, as India's Mixed Team defeated Thailand's Praphaporn Homjanthuek and Anon Aungaphinan and levelled up to the quarterfinals in compound Archery in which they went deep in the mixed team compound open archery event. This, they are seeded 6th but have a shot at reaching the semi-finals and hopefully beyond. Vinod Kumar will be in action in the Men's Discus Throw – F52 event as Nishad Kumar and Ram Pal Chahar will compete in the Men's High Jump – T47.
'In life, we just find something we love and make it our life. That is the only way to be successful. Love what you do.'

No posts

No posts

No posts

No posts

No posts