Article
4 min read
Young Indian Poets Who Are Reinventing Poetry !
September 13, 2021
Share
0

Bookmarks
317

Reads
0

Likes
"The poet, therefore, is truly the thief of fire.
He is responsible for humanity,
for animals even;
he will have to make sure his visions can be smelled,
fondled, listened to;
if what he brings back from beyond has form,
he gives it form; if it has none,
he gives it none.
A language must be found…of the soul,
for the soul and will include everything:
perfumes, sound colors,
thought grappling with the thought"
― Arthur Rimbaud
The way we look at the world is not that fascinating. The population is rebellious, it is inspiring, and so is Indian Literature! If we think poetry can't bring peace of mind then the youth and talented poets will make you think twice.
Kavishala presents the string of words that will stir our reader's soul and their attitude to never give up with obstacles and fight until death.
Poets have the power to think creatively that allows them to speak to the whole world on an intimate level and keep everyone hooked.
Well, there is no dearth of Indian young minds pouring out their heart and soul onto the pages, ruffling feathers with their views on politics, and inspiring their followers with romantic verses of love.
I. Karuna Ezara Parikh
Karuna Ezara Parikh is a model, multifaceted being, and a travel writer, who went viral for her compelling poem performed for the Women in the world India Summit, on the terrorist attacks in 2015.
Her poetry affects a wide variety of people in many ways, through the art of words that can heal, inspire, enrage and even spark joy in the darkest of spaces inside you. She raised voice upon the world's ignorance and lack of empathy for equally struck places like Beirut and Baghdad, captured in this striking line:
"Say a prayer for the world falling apart in all corners,
and not simply in the towers and cafes we find so familiar."
Her short poems are uplifting, refreshing, and can be found on social media. Being a blogger she writes about her travel experiences and book reviews.
II. Srijan Dubey
The young writer Srijan Dubey is a poet as well as the founder of ASMI Youth Career Advisor, which gives educational and career-related counsel to students. He is very well known in the slam poetry world and has performed at many popular forums, like Airplane Poetry Movement, Pune Poetry Slam, and Bullock-cart Poetry.
He expresses in his writings the trajectory of emotions, at times exciting and hilarious with mixed feelings of intense somber.
The young Srijan has a knack for capturing a spectrum of little things in his poetry, from exploring drugs in his performance of 'Drugs/Identity' ("I love me when I'm on Ecstacy") to traversing his complex mindscape in 'Blue'.
III. Vinatoli Yeptho
Being a law student Vinatoli Yeptho at NLU Kolkata, poured out her frustration at being discriminated against for gender inequality into a fiery spoken-word poem, her performance went viral on various social media platforms.
Her contribution "Five Rules For Whomever It May Concern" sums up the harassment, judgement, and objectification north-eastern women have to face and is a call to society to do better.
Once she said, "And if you still do not obey these rules, remember, my forefathers were headhunters. I was born out of a clan of warriors."
She was the eldest of her 5 siblings, to go to college and hopes to use her law degree to fight for human rights, especially for women. She also writes on the theme of love, freedom, and womanhood.
IV. Pavana Reddy
Living in Los Angeles Pavana Reddy has huge followers in South Asian-Americans abroad. Being someone who was raised up in wide countries, her experiences as an enthusiastic woman as well as her personal struggles have given a distinctness to her poetry and make it hard to forget.
Her first book, 'Rangoli' is a series of raw thoughts and emotions over 6 years. "This is a book for girls of color", Pavana says on her website, "more specifically, it's a book unapologetically documenting our landscape of hurt and healing."
Her second book, 'Where Do You Go Alone?' is set to release in fall 2018. 'Rangoli' is also one of her famous works.
V. Sayujya Sankar
An Assistant Professor of English Literature at Stella Maris College, Sankar discovers magic every day. She's moved to write by happiness or anger, and unlike her fiction writing, she finds that her poetry is situated in the specific location she's in at the moment.
Her interests include Tamil and vernacular words in her poetry.
"If the word fit in the poem, it didn't make sense to translate it as it wouldn't sound right in English. I would also just use it if the word in itself was quite lyrical," she proclaimed.
She said, "Poetry is constantly evolving, if that's where it's going, then that's where it's going. In the end, poetry is at its essence an expression of individuals. Also, visual poetry has always been around, it's just gaining a new medium."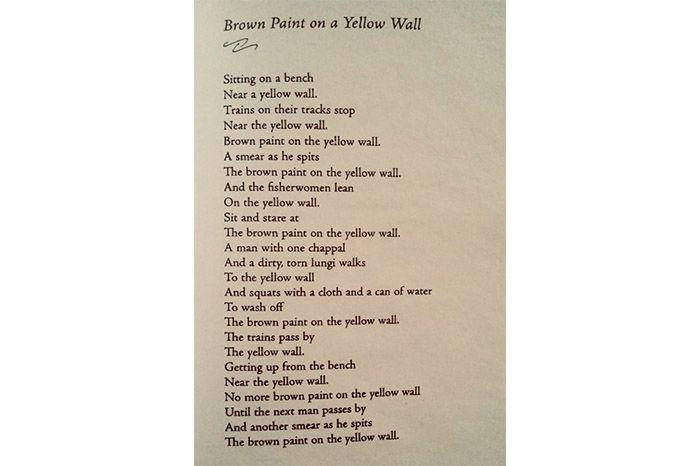 She published a collection of her poems, 'Firefly In The City' with Writer's Workshop. Her short story collection, 'A Symphony of Chance Encounters' is reaching great success.
Poetry is a deal of joy and pain and wonder, with a dash of the dictionary. ~Khalil Gibran

No posts

No posts

No posts

No posts

No posts