Article
4 min read
Bhagwati Charan Verma : The blissful mysterious Writer
August 30, 2021
Share
0

Bookmarks
287

Reads
0

Likes
"And by the way, everything in life is writable about if you have the outgoing guts to do it,
and the imagination to improvise.
The worst enemy to creativity is self-doubt."
~ Sylvia Plath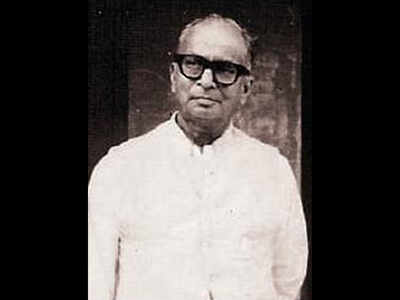 Chitralekha's creator Bhagwati Charan Verma founded 'Dilip Kumar':
Syncing his Early Life and Career
Bhagwati Charan Verma Sahab was born on 30th Aug 1903 in a well-known Kayastha family in Tahsil Safipur, in present-day Uttar Pradesh India. Earning name and fame at national and international level in the field of literature by writing poetry, novel, story, and dramas. His esteemed father, Shri Devi Charan Ji advocated in Kanpur. Bhagwati Babu went to Prayag University for higher education from where he received a bachelor's degree in literature and law.
He also spent some years living with his extended family at the ancestral home in Patkapur. He received an honor from The Sophical School and went on to do his B.A. L.L.B. from Allahabad University.
"Sometimes the ideas just come to us.
Other times we have to sweat and almost bleed to make ideas come.
It's a mysterious process,
but we hope we never find out exactly how it works.
It's like a mystery, as you may have noticed."


The unsung tragedy king's journey from Yusuf Khan to Dilip Kumar passes through Lucknow.
Verma's family in Lucknow recalls that when Yusuf Khan was taken in his debut film 'Jwar Bhata' (1944), a screen name for him was to be chosen. "My father was the scriptwriter of the film being produced by the Bombay Talkies. The owner Devika Rani asked for a few suggestions," said Dhirendra Varma's, his son who is also an author. Recalling the stories narrated by his father, Dhirendra added: "While my father suggested Dilip Kumar, Devika Rani proposed Vasudev. Another suggestion was Jehangir. Yusuf Khan was given the choice to finalize and he chose Dilip Kumar."
The actor in his autobiography Dilip Kumar: The Substance and The Shadow has narrated how Devika Rani proposed the new name and he took some time to accept it. The proposition left him speechless for a moment, Dilip Kumar has written, and he asked if it was really necessary.
"She (Devika Rai) gave her a sweet smile and told me that it would be prudent to do so. I was quick to appreciate her concern but I told her I needed to think about it a bit. She responded: 'Fine … come back to me with your thoughts. Finally, the choice was given to Yusuf Khan who picked Dilip Kumar for himself," reads the chapter 'Lights Camera Action' in the autobiography.
He further said: "I must confess that the new identity as Dilip Kumar had a liberating impact on me." He has further said that he consulted director S Mukherjee about the name change who told him that people close to him would always know him as Yusuf, he said that the turmoil died when he got to know that actor Ashok Kumar's real name was Kumudlal Kunjilal Ganguly.
Bhagwati Charan Verma's grandson Chandra Shekar said that in the 1970s, BR Chopra made an effort to bring his grandfather and Dilip Kumar together again for a project on Chanakya and Chandragupta. "The script was written but somehow the project could not take off. So he converted the script into a novel titled Chanakya," he said. His 'Chitralekha' has been turned into a movie twice. The second adaptation of the novel, produced by Kidar Sharma, had Meena Kumari, Pradeep Kumar, and Ashok Kumar in the leading roles, and immortal songs written by Sahir. Varma had a brief stint in the Mumbai film industry before he turned full-time independent writer in 1957.
Well, with exotic history after his education, he practiced law at Kanpur and later at Hamirpur where he wrote his historic novel Chitralekha in 1934.
To the utmost success that got him instant fame overnight and started his literary career in which he contributed over 17 novels to Indian Literature. Working at Calcutta Film Corporation for a while, followed by editing a weekly magazine, Vichaar. Doing screenwriting in Bombay, and later on he edited a Hindi daily Navjeevan, and consequently started writing independently in 1957.
He had also worked as a Hindi advisor at All India Radio, Lucknow, and later in 1978, he was nominated to the Upper House of Indian Parliament, Rajya Sabha.
Popular Writings that you must read -
Bhule Bisre Chitra, Rajkamal Prakashan, Delhi, 1959.

Yuvraj Chanda

Sabahin Nachawat Ram Gosain

Kahi na Jay ka Kahiye

Rekha

Samarthya Aur Seema

Sampooran Natak
The Noble entity died on the 5th of Oct,1981. A park is named after him, in his memory at his birthplace, Safipur.

No posts

No posts

No posts

No posts

No posts